October 30, 2023
NVBCC 2nd Economic Forum
NVBCC 2nd Economic Forum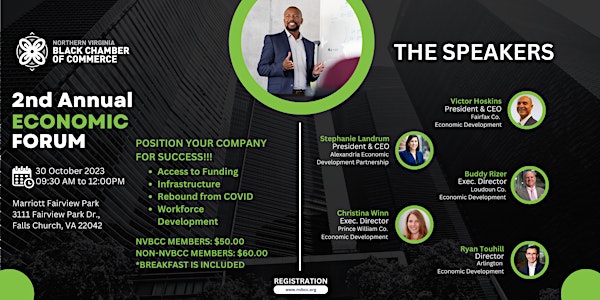 Join NVBCC, and NOVA leaders in the discussion and action plan to build, scale, and sustain the economic impact in the African American Business Community.
Position your company for success!!! Access to Funding, Infrastructure, Rebound from COVID, Workforce Development.
Speakers Include:
Victor Hoskins, President & CEO Fairfax County
Stephanie Landrum, President & CEO, Alexandria City
Buddy Rizer, Executive Director Loudoun County
Christina Winn, Executive Director Prince William County
Ryan Touhill-Director, Arlington County
NVBCC Members Only: $50
For NVBCC Member Pricing, you must visit: [https://business.northernvirginiabcc.org/ap/Events/Register/9p8915vP], log into your account.
Non-NVBCC Members: $60
General Admission Tickets can be purchased on Eventbrite, or through our website at www.nvbcc.org.